EFEKTIVITAS MENCUCI TANGAN DENGAN SABUN CUCI TANGAN CAIR BERBAHAN AKTIF TRICLOCARBAN PADA MAHASISWA FAKULTAS KEDOKTERAN UNIVERSITAS JAMBI ANGKATAN 2015
Abstract
Abstract
Background: Hand hygiene is essential to prevent various infectious diseases caused by bactery of hands which can contaminate hands in a short time during daily activities. Indonesian people who wash their hands with soap only 12%. One of the methods hand washing in removing dirt and germs on the hands is  Seven-step hand washing. Many types of soaps are used by people to wash their hands and Triclocarban is one of the active ingredient of hand washing soap. The aim of this study was to determine the effectiveness of seven-step of hand-washing with liquid Triclocarban soap in hand hygiene.Method : This study was an analytic study by using one group pretest-posttest experiment. The study took place in biomedic laboratorium Faculty of Medicine and Health Sciences University Jambi from January to March 2016. The samples were 36 swab cottons stick from sidelines right fingers students before and after handwash then analyzed with statistic.
Result : The average number of bacterial colonies before and after hand wash were 28,41 and 7,12 CFU/Cm2. The study was considered significant because the results of Wilcoxon test show p<0.15 was 0,000. The bactery found mostly was cocci gram-positive and the least was bacilli gram-negative.
Conclusion : Seven-steps hand washing with liquid triclocarban soap is effective in maintaining the cleanliness of hands.
Keywords : Hand wash with soap, Seven steps hand washing, Triclocarban
 Abstrak
Latar Belakang : Kebersihan tangan penting untuk mencegah penyakit infeksi karena mikroba mengkontaminasi tangan dalam waktu yang singkat dalam aktivitas sehari-hari. Rata-rata hanya 12% masyarakat Indonesia yang mencuci tangan pakai sabun. Metode cuci tangan tujuh langkah adalah metode cuci tangan paling lengkap dalam menghilangkan kotoran dan kuman yang ada di tangan. Banyak jenis sabun yang digunakan untuk mencuci tangan, salah satunya sabun cuci tangan berbahan aktif Triclocarban. Tujuan penelitian ini adalah untuk mengetahui efektivitas mencuci tangan tujuh langkah dengan sabun cuci tangan cair Triclocarban dalam menjaga kebersihan tangan.
Metode : Jenis penelitian ini adalah penelitian analitik one group pretest-posttest eksperimen. Lokasi di laboratorium Biomedik FKIK Universias Jambi dari Januari sampai Maret 2016. Sampel penelitian ini adalah usapan kuman dengan kapas lidi di sela-sela jari tangan kanan mahasiswa sebelum dan sesudah cuci tangan sebanyak 36 orang yang kemudian dianalisis dengan menggunakan uji wilcoxon.
Hasil  : Jumlah koloni bakteri rata-rata sebelum dan sesudah cuci tangan adalah 28.41 dan 7.12 CFU/Cm2. Penelitian ini dianggap bermakna karena pada hasil analisis uji Wilcoxon didapatkan nilai p < 0,15 yakni 0,000. Bakteri yang paling banyak didapatkan adalah kokus gram positif dan paling sedikit batang gram negatif.
Kesimpulan     :  Mencuci tangan tujuh langkah dengan sabun cuci tangan cair Triclocarban efektif dalam menjaga kebersihan tangan.
Kata Kunci       : CTPS, Cuci tangan tujuh langkah, Triclocarban
Downloads
Download data is not yet available.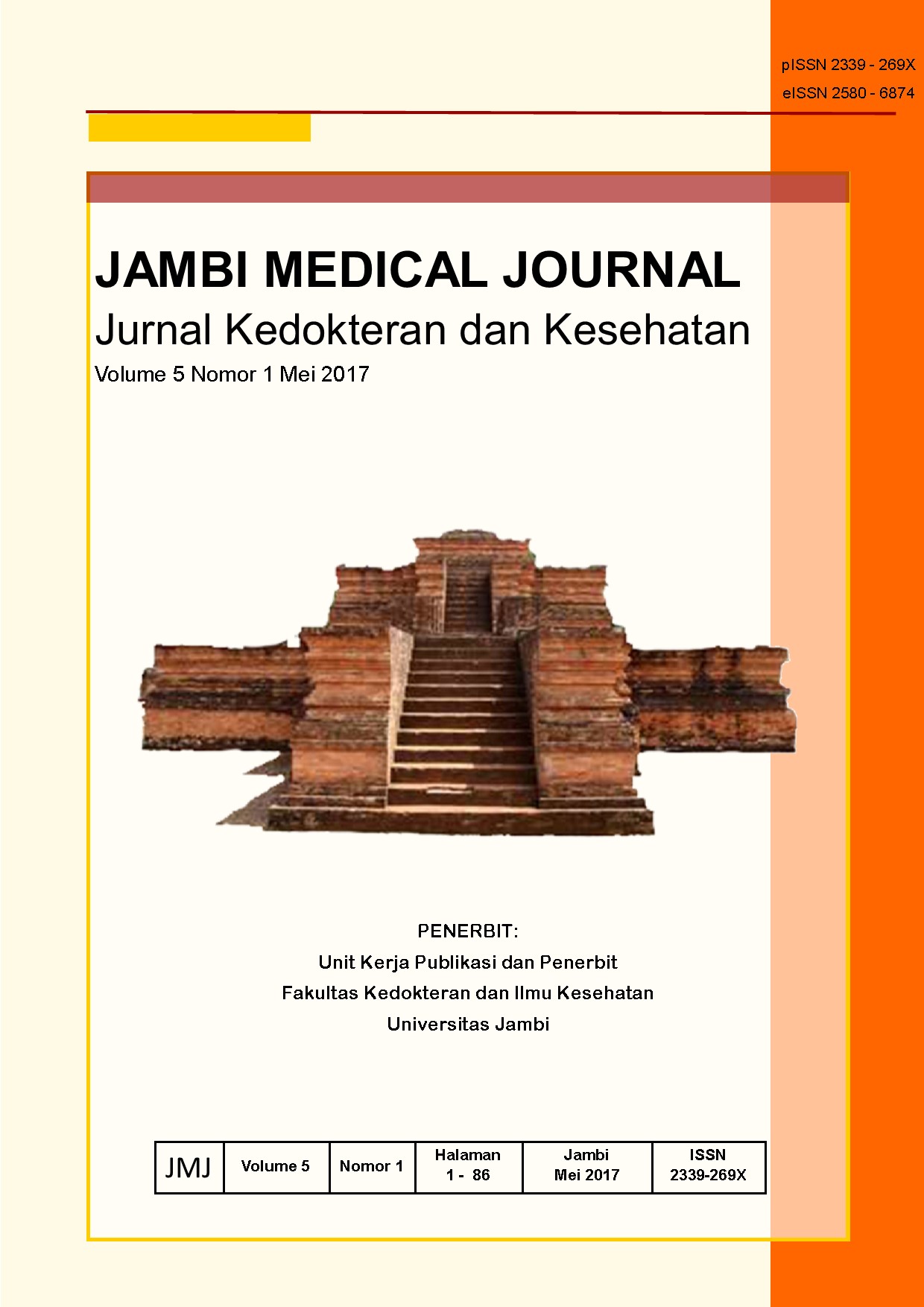 Downloads
Published
2017-09-14 — Updated on 2017-09-14
How to Cite
lipinwati, lipinwati, Siska, meliana, & Permana, O. (2017). EFEKTIVITAS MENCUCI TANGAN DENGAN SABUN CUCI TANGAN CAIR BERBAHAN AKTIF TRICLOCARBAN PADA MAHASISWA FAKULTAS KEDOKTERAN UNIVERSITAS JAMBI ANGKATAN 2015. JAMBI MEDICAL JOURNAL "Jurnal Kedokteran Dan Kesehatan", 5(1), 49-58. https://doi.org/10.22437/jmj.v5i1.3699