PENERAPAN ANASTESI REGIONALPADA OPERASI EKSTREMITAS ATAS
Abstract
Abstarct
Anesthesia for upper limbs is generally performed with a general anesthetic mode, rarely using regional anesthesia, while for lower extremity anesthesia has been long with peripheral nerve blocks. Many patients who have to undergo surgery but are constrained because of the risk of general anesthesia surgery, in addition to cardiovascular conditions that can be disrupted when. Peripheral nerve block anesthesia for upper limb operations offers significant efficiency and effectiveness. These benefits include superior control over intraoperative pain, more surgical stress, minimal systemic disturbance, lower postoperative nausea and vomiting (PONV) incidence and postoperative local analgesia and reduced hospital stay and financing.
Keywords: Regional Anastesi, upper limbs operations
Abstrak
Anestesi untuk ekstremitas atas umumnya dilakukan dengan moda anestesi umum, jarang sekali menggunakan anesthesia regional, sementara untuk anestesi extremitas bawah sudah lama dengan blok saraf perifer. Banyak pasien yang harus menjalani operasi namun terkendala karena adanya resiko operasi anestesi umum, disamping kondisi kardiovaskuler yang bisa sesewaktu mengalami gangguan. Anestesi blok saraf perifer untuk operasi ekstremitas atas menawarkan efisiensi dan efektifitas yang sangat signifikan. Manfaat ini termasuk kontrol yang unggul mengatasi nyeri intraoperatif, stres bedah yang lebih, gangguan sistemik yang minimal, insiden mual dan muntah pasca operasi (Post Operative Nausea and Vomiting = PONV) lebih rendah serta analgesia pasca operasi lokal serta mengurangi lama rawat rumah sakit dan pembiayaan.
Kata Kunci: Anastesi regional, operasi ekstremitas atas
Downloads
Download data is not yet available.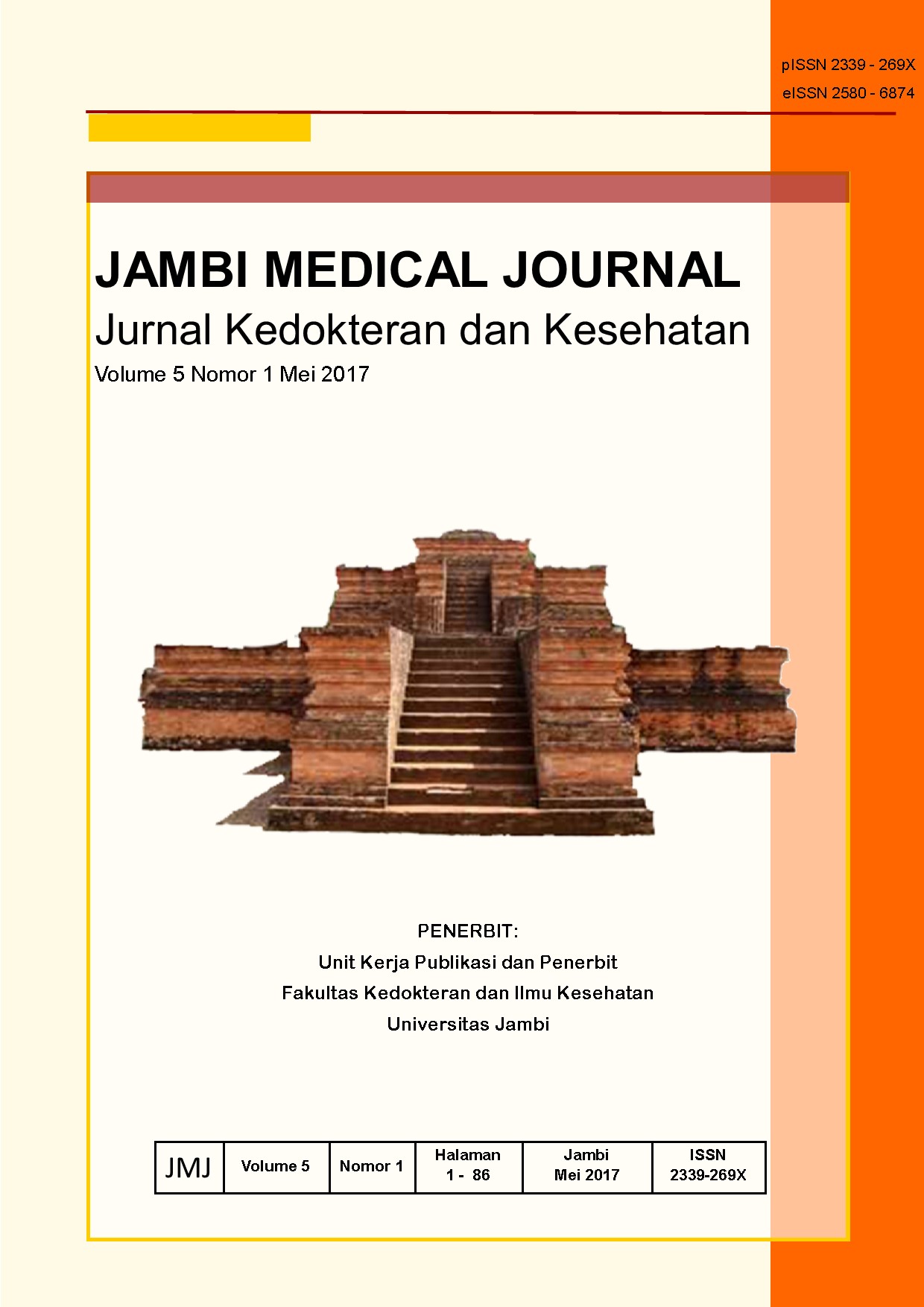 Downloads
Published
2017-09-14 — Updated on 2017-09-14
How to Cite
JMJ, J., & Simanjuntak, C. A. (2017). PENERAPAN ANASTESI REGIONALPADA OPERASI EKSTREMITAS ATAS. JAMBI MEDICAL JOURNAL "Jurnal Kedokteran Dan Kesehatan", 5(1). https://doi.org/10.22437/jmj.v5i1.3704