HUBUNGAN ANEMIA DEFISIENSI BESI DENGAN KEJANG DEMAM PADA ANAK BALITA
Abstract
Abstract
Background: Febrile seizure is a convulsion that occured after body temperature increased (rectal temperature more than 38oC) caused by an extracranial process, occuring in 2-4% of children about 6 months to 5 years old. Febrile seizure is one of the commonest cause of seizures in children, especially toddlers and an event that often makes parents worry. One of the factor that caused it is iron deficiency anemia because iron plays an important role in neural function. This study purposed to know relationship between iron deficiency anemia and febrile seizure in toddlers.
Method: This study is done with observational retrospective analytic. The population is all children diagnosed with febrile seizure (case group) and febrile without seizure (control group) who hospitalized in Raden Mattaher General Hospital Jambi in 2015 that is available in the hospital medical records. There are 84 samples consists of 42 samples in case group and 42 others in control group. This study variables are age, gender, body temperature, and iron deficiency anemia.
Result: Febrile seizure occured the most in the case group in age of 12 to 23 months (31,0%) in the males (61,9%), while the most common body temperature category is >39oC (61,9%). Iron Deficiency Anemia occured in toddlers with Febrile Seizure group (45,2%) more than febrile without seizure group (19%). Based on bivariate analysis, p value of the relationship between iron deficiency anemia and febrile seizure is 0,01 (p= 0,01), and the odds ratio is 3,511.
Conclusion: There is a significant relationship between iron deficiency anemia and febrile seizure in toddlers at Raden Mattaher General Hospital Jambi 2015.
Key Words: Febrile Seizure, Iron Deficiency Anemia
Abstrak
Latar Belakang : Kejang demam adalah bangkitan kejang yang terjadi pada kenaikan suhu tubuh (suhu rectal di atas 38oC) yang disebabkan oleh suatu proses ekstrakranium. Kejang demam terjadi pada 2-4% anak berumur 6 bulan – 5 tahun. Kejang demam merupakan salah satu kejadian bangkitan kejang yang sering dijumpai pada anak, khususnya anak balita dan merupakan peristiwa yang mengkhawatirkan bagi orang tua, dan tingginya angka kejadian dimasyarakat. Salah satu faktor yang dapat menyebabkan kejang demam adalah anemia defisiensi besi karena besi memiliki peran penting dalam fungsi neurologi. Penelitian ini bertujuan untuk mengetahui hubungan anemia defisiensi besi dengan kejang demam pada anak balita.
Metode : Penelitian dilakukan secara observasional analitik retrospektif. Populasi penelitian adalah semua pasien anak yang didiagnosis kejang demam ( kelompok kasus ) dan demam tanpa kejang ( kelompok kontrol ) yang dirawat di RSUD Raden Mattaher tahun 2015 yang tercatat pada rekam medis. Jumlah sampel dalam penelitian ini ada 84 orang terdiri dari 42 orang kelompok kasus dan 42 orang kelompok kontrol. Variabel yang diteliti adalah usia, jenis kelamin, suhu tubuh dan anemia defisiensi besi.
Hasil : Kejang demam paling banyak pada kelompok kasus kategori usia 12-23 bulan  (31,0%), pada jenis kelamin laki-laki (61,9%) ,dan pada suhu tubuh kategori >39oC (61,9%). Anemia Defisiensi Besi lebih banyak pada anak balita  kelompok Kejang Demam sebanyak (45,2%) dibandingkan dengan kelompok yang demam tanpa kejang sebanyak (19%). Berdasarkan analisis bivariat hubungan anemia defisiensi besi dengan kejang demam didapatkan nilai p= 0,01, OR = 3,511.
Kesimpulan : Terdapat hubungan yang bermakna antara Anemia Defisiensi Besi dengan Kejang Demam pada anak balita di RSUD Raden Mattaher Jambi tahun 2015.
Kata Kunci : Kejang Demam, Anemia Defisiensi Besi
Downloads
Download data is not yet available.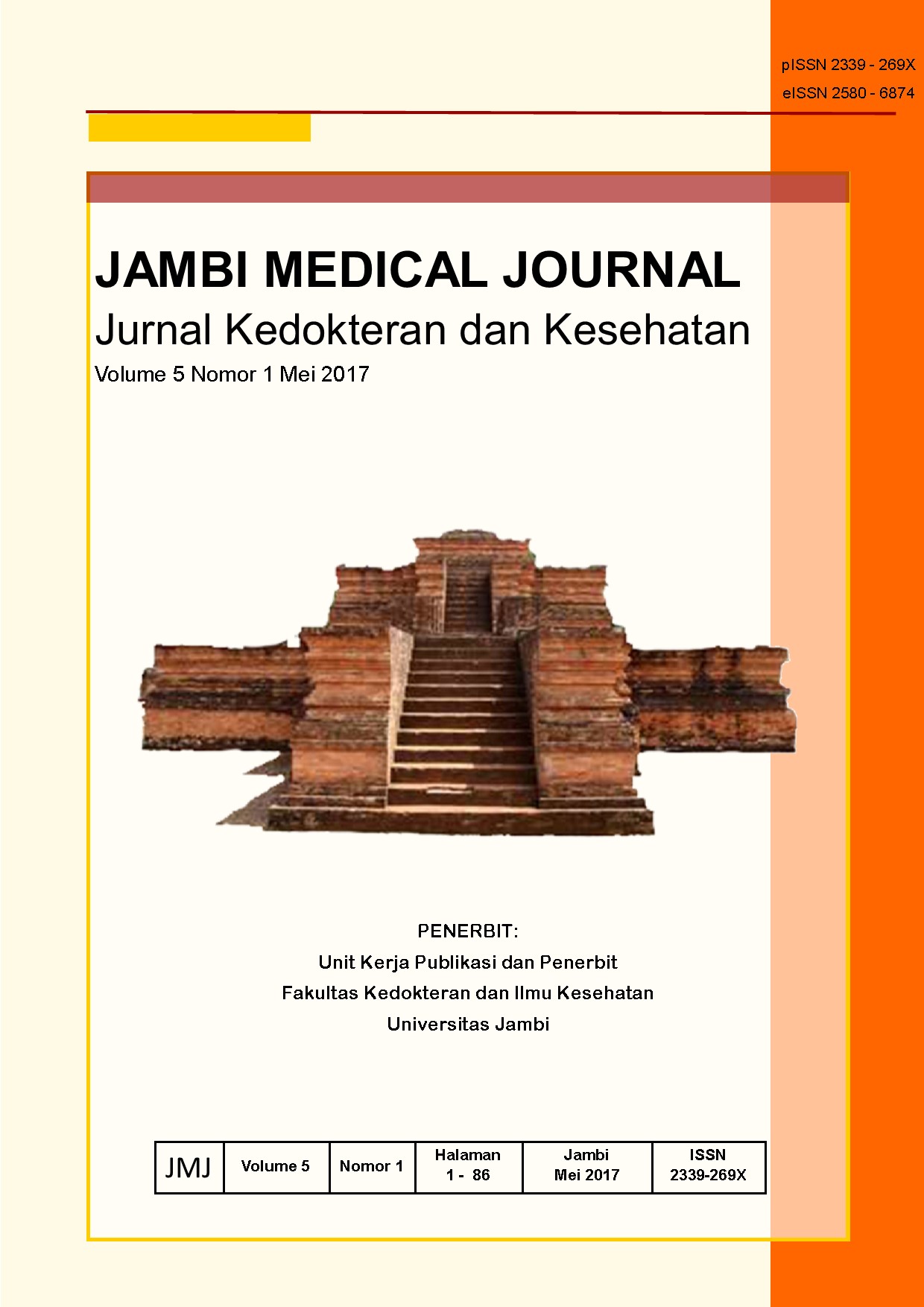 Downloads
How to Cite
HUBUNGAN ANEMIA DEFISIENSI BESI DENGAN KEJANG DEMAM PADA ANAK BALITA. (2017). JAMBI MEDICAL JOURNAL "Jurnal Kedokteran Dan Kesehatan", 5(1), 68-77. https://doi.org/10.22437/jmj.v5i1.3703