THE DIFFERENCES OF COMMUNITY KNOWLEDGE BETWEEN BEFORE AND AFTER HEALTH EDUCATION OF MALARIA
Abstract
Background: Sukajaya Lempasing village is a malaria-endemic area with the increasing of Annual Parasitic Incident from 2015, which is 1.7 per 1,000 population to 2.2 per 1,000 population in 2016. The village has a higher Annual Parasite Incidence with a national Annual Parasite Incidence in Indonesia of 0.84 per 1,000 population. Various efforts have been made to prevent malaria, such as early diagnosis, prompt treatment, vector surveillance and control. However, the program has not been effective in reducing the number of malaria due to the lack of society's knowledge about Malaria. Methods: This research uses the quasi-experimental method. The sampling technique is a total sampling. The study was conducted from April to June 2017, located in Sukajaya Lempasing Village, Pesawaran, Lampung. The samples obtained were 25 people. Data obtained from questionnaires. Results: The results of univariate analysis obtained abnormal distribution data with the p-value of pretest = 0.03 and p posttest = 0.00. Because the data is abnormally distributed, the bivariate analysis of the non-parametric Wilcoxon test is used which shows the value of p = 0.00. Conclussion: The conclusion of this research is the difference in knowledge about malaria before and after health education in the community of Sukajaya Lempasing Village.
Keywords: Malaria, Health Education, Knowledge.
Downloads
Download data is not yet available.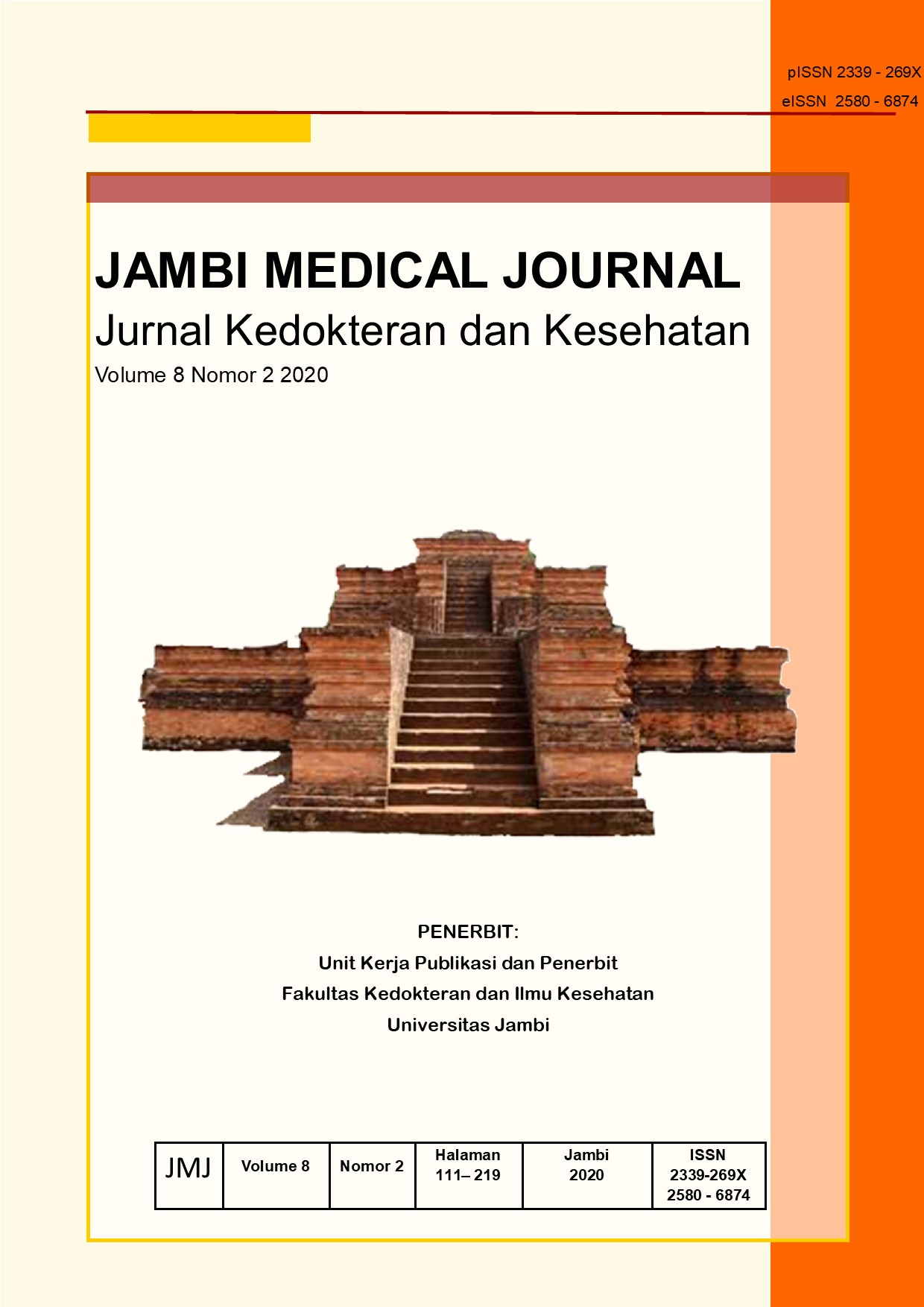 Downloads
How to Cite
Sa'diyah, I. F., Wardani, D. W. S. R., Kurniawan, B., & Soleha, T. U. (2020). THE DIFFERENCES OF COMMUNITY KNOWLEDGE BETWEEN BEFORE AND AFTER HEALTH EDUCATION OF MALARIA. JAMBI MEDICAL JOURNAL "Jurnal Kedokteran Dan Kesehatan", 8(2), 191-197. Retrieved from https://online-journal.unja.ac.id/kedokteran/article/view/10209