2018-10-18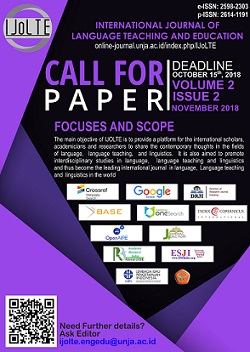 Dear Authors, Readers, Researchers, Peer Reviewers and Editors of IJoLTe, we want to inform you below the name of the authors whose article will be published on volume 2, nomber 3, November 2018:
1. Muhammad Mukhtar Aliyu and Gambo A. Danladi;
2. Rami Abu Sa'aleek;
3. Frangky Silitonga and Lilis Puji Astuti;
4. Mehry Haddad Narafsah and Samieh Noori;
5. Andy Chung, Graham Harding, Joonhong Kim and Koot van Wyk;
6. Sri Mulatsih, Mursid Saleh, Warsono and Issy Yuliasri;
7. Rahayu Meliasari, Ngadiso and Sri Marmanto;
8. Eva Yuni Rahmawati;
9. Lilik Ulfiati;
10. Anggri Muhtia,Suparno and Sumardi;
11. Rija Dwiono, Dewi Rochsantiningsih, Suparno;
12. Denty Marga Sukom, Joko Nurkamto and Nur Arifah Drajati;
13. Widyani Solihat, Ngadiso, Slamet Supriyadi.

Regards,IJoLTe Teams.
Read more about Authors name November 2018