AGE-RELATED FACTORS OF EPILEPSY AND ITS IMPACT ON QUALITY OF LIFE: A CROSS-SECTIONAL STUDY IN BETHESDA HOSPITAL YOGYAKARTA
Abstract
Introduction: Epilepsy is a neurological disorder that negatively impacts quality of life (QOL). There are limited studies on the QOL of people living with epilepsy in Indonesia. Aim: The purpose of this study was to evaluate the association between age-related factors (age, age at onset, and duration of epilepsy) and QOL.
Methods: This cross sectional study was conducted in the Department of Neurology, Bethesda Hospital, Yogyakarta, Indonesia from November 2017 to February 2018.  Patients with epilepsy aged 18 years and above were recruited in the study. QOL was measured using the Short Form 8 (SF-8).
Results: A total of 27 patients were eligible for the study. The QOL of patients aged ≥ 60 years was significantly lower in the following aspects: physical functioning (42.44±8.243), general health (40.04±7.641), role emotional (39.60±7.638), mental health (43.50±10.347), and mental component score (42.04±10.282). Patients with age at onset ≥ 55 years had significant effects in lower role emotional (40.54±7.245) and mental component score (42.98±10.155). There was no significant difference in the QOL scores and duration of epilepsy.
Conclusion: This study demonstrated that age and age at onset influence the QOL in patients with epilepsy. 
Keywords: Epilepsy, age-related factors, quality of life, Short Form 8 Health Survey.
Downloads
Download data is not yet available.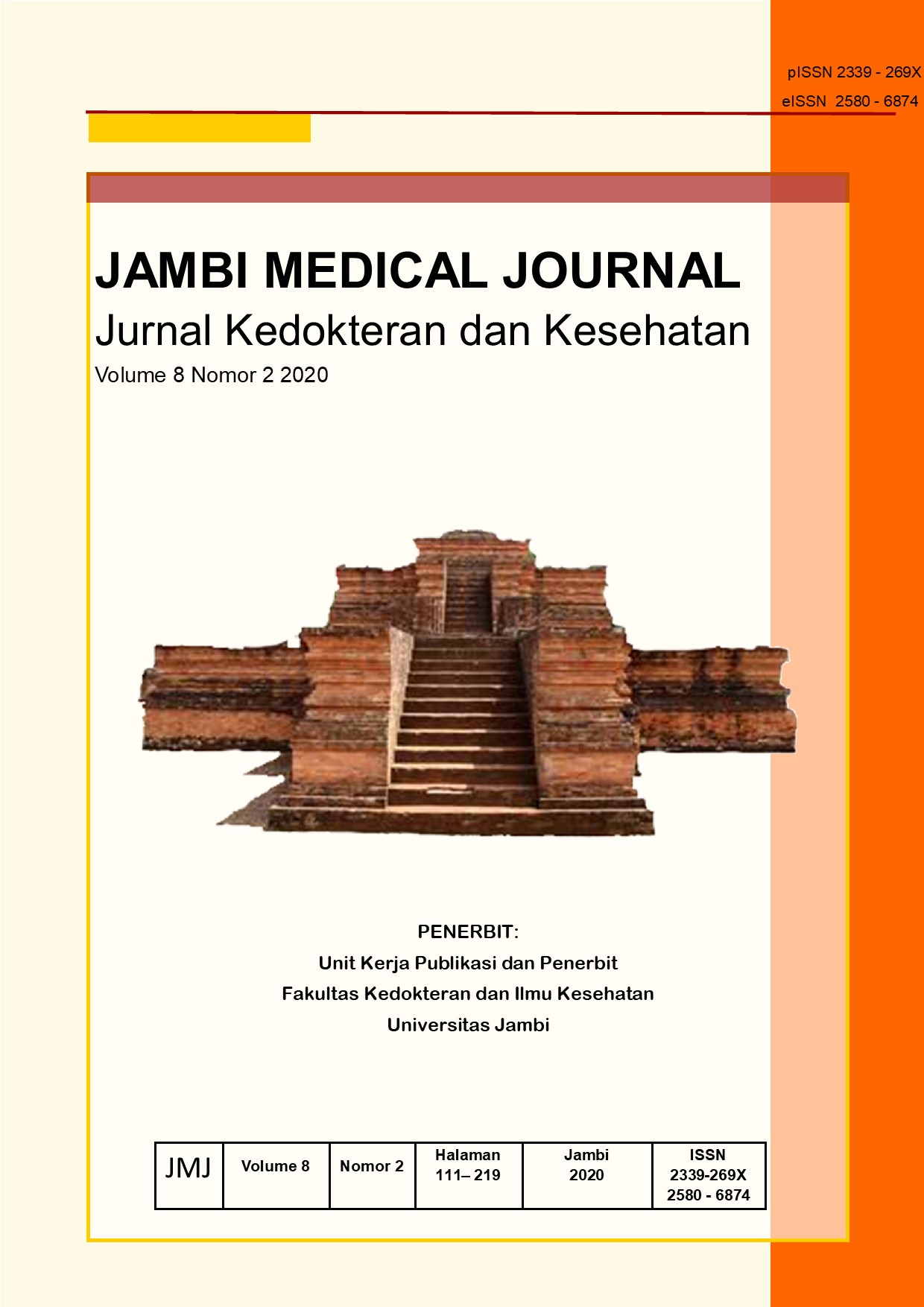 Downloads
Published
2020-11-20 — Updated on 2020-11-20
How to Cite
Pinzon, R. T., Wijono, A. D. ., & Renita, R. D. L. (2020). AGE-RELATED FACTORS OF EPILEPSY AND ITS IMPACT ON QUALITY OF LIFE: A CROSS-SECTIONAL STUDY IN BETHESDA HOSPITAL YOGYAKARTA. JAMBI MEDICAL JOURNAL "Jurnal Kedokteran Dan Kesehatan", 8(2), 120-126. Retrieved from https://online-journal.unja.ac.id/kedokteran/article/view/5361