THE EFFECT OF VITAMIN D3 SUPPLEMENTATION PER ORAL AND SUN EXPOSURE ON THE EMPLOYEES OF PROF. DR. R SOEHARSO ORTHOPEDIC HOSPITAL OF SURAKARTA WITH VITAMIN D INSUFICIENCY OR DEFICIENCY
Abstract
Background : Vitamin D insufficiency affects almost 50% of the population worldwide. About 1 billion people worldwide from all ethnicities and age groups, have a vitamin D deficiency. This pandemic of hypovitaminosis D closely related to to lifestyle (such as less of outdoor activities) and environmental (such as air pollution) factors that reduce exposure to sunlight, which is required for ultraviolet-B (UVB)-induced vitamin D production in the skin. High prevalence of vitamin D insufficiency is an important public health issue because hypovitaminosis D is an independent risk factor for total mortality in the general population. Last studies suggest that we may need more vitamin D to prevent chronic disease. As few foods contain vitamin D, guidelines recommended supplementation at suggested daily intake and tolerable upper limit levels. It is also suggested to take a measurement of  the 25-hydroxyvitamin D level serum as the initial diagnostic test in patients at risk for deficiency. Treatment with either vitamin D2 or vitamin D3 is recommended for deficient patients.
Subjects and Method : This study was an experimental study with one group design pretest and postest. Target population was employee of Prof dr R Soeharso Orthopaedic hospital with deficiency or insuficiency of vitamin D level. Total of 40 subjects has been measured serum 25-hydroxyvitamin D level. The result found that 1 sample is normal and excluded from the study, and 39 others are included in the study. All of them have been treated with vitamin D3 suplement 50.000 IU per week for eight weeks then measured serum 25-hydroxyvitamin D level post treatment. All the result was analized with Wilcoxon test respectively
Results : All samples undergoing treatment with vitamin D3 suplement had a significant improvement on the result of Vitamin D level. Wilcoxon rank test shows the value of p = <0.001 (p <0.05) which means that there is a significant improvement of  vitamin D serum levels before and after treatment.Conclusion : Normalization of hypovitaminosis D level with cholecalciferol (D3) treatment significantly reduces the severity of fatigue symptoms in person who has complain about fatigue conditions.
Downloads
Download data is not yet available.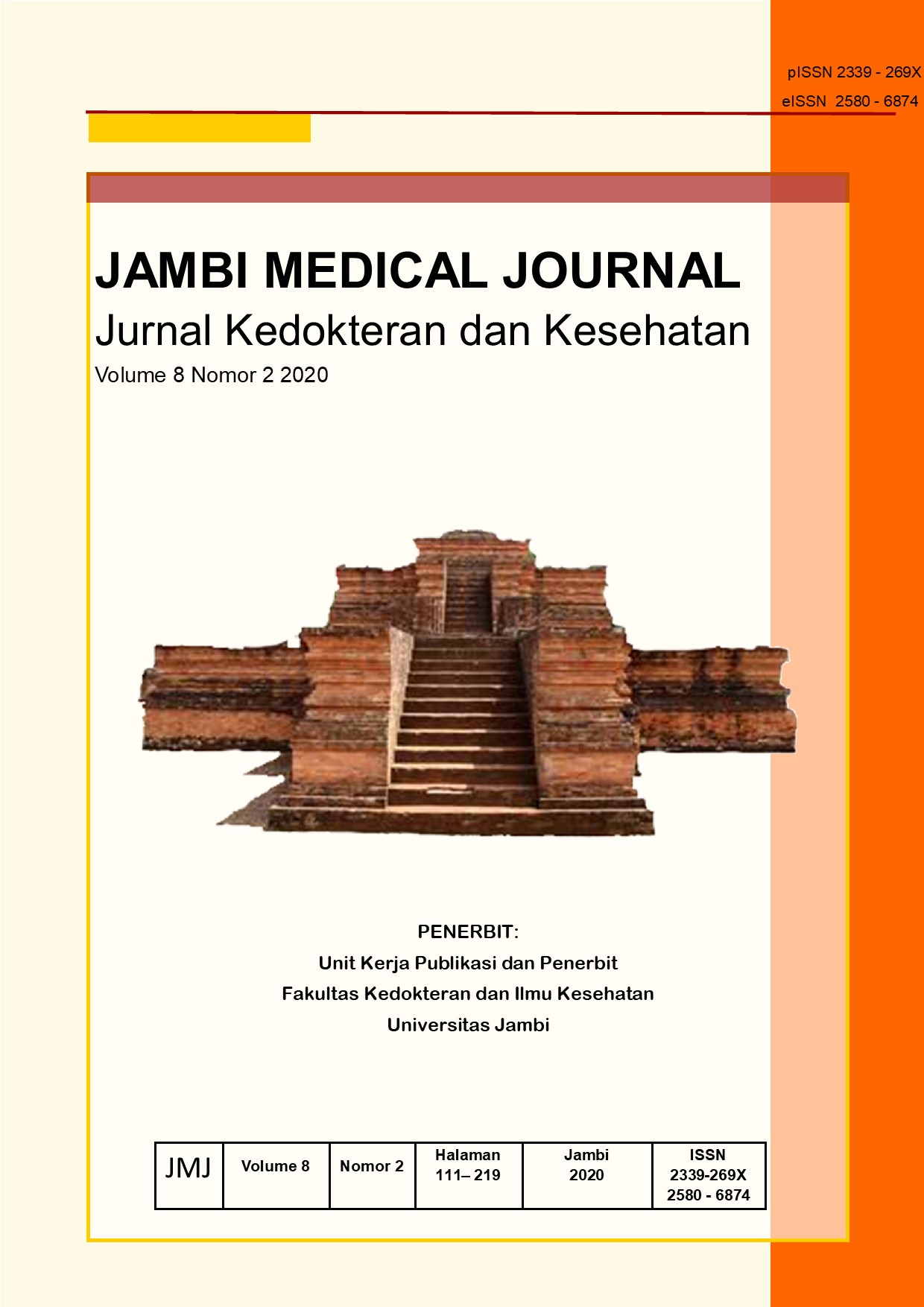 Downloads
How to Cite
Pamudji Utomo, Mujaddid Idulhaq, Agus Wahyudi, & Tulandi, M. qathar R. T. (2020). THE EFFECT OF VITAMIN D3 SUPPLEMENTATION PER ORAL AND SUN EXPOSURE ON THE EMPLOYEES OF PROF. DR. R SOEHARSO ORTHOPEDIC HOSPITAL OF SURAKARTA WITH VITAMIN D INSUFICIENCY OR DEFICIENCY. JAMBI MEDICAL JOURNAL "Jurnal Kedokteran Dan Kesehatan", 8(2), 166-171. Retrieved from https://online-journal.unja.ac.id/kedokteran/article/view/10472