HUBUNGAN KADAR GULA DARAH PADA STROKE HEMORAGIK: STUDI META ANALISIS
Abstract
ABSTRACT
Background: Hyperglycemia often occurs during periods of acute stroke and can occur in patients with or without diabetes. Hyperglycemia is an independent risk factor for poor clinical outcome in stroke patients. Hyperglycemia occurs in 30-40% of patients with acute ischemic stroke and 43–59% of patients with hemorrhagic strokes. Many studies have shown hyperglycemia on acute phase was respons of stress. Objectives: Knowing the description and relationship of blood glucose levels in hemorrhagic stroke in 11 analyzed journals. Methods: This type of study is a meta-analysis of 11 publicated journals at PubMed and AHA/ASA Journal on 2015-2020 and accessed on August-November 2020. Results: There were 11 journals analyzed, 10 from PubMed and 1 from AHA / ASA Journal. The results of the journal's meta-analysis show The combined effect size on 11 journals has a p value> 0.05 (OR = 0.999 95% CI: 0.969-1.030). Conclusions: The meta-analysis results show that blood glucose is not an independent variable that affects the incidence of hemorrhagic stroke.
Keywords: Blood Glucose, Hyperglycemia, Hemorrhagic Stroke
ABSTRAK
Latar Belakang: Hiperglikemia sering terjadi selama periode stroke akut dan dapat terjadi pada pasien dengan atau tanpa diabetes. Hiperglikemia adalah suatu faktor risiko independen untuk hasil klinis yang buruk pada pasien stroke. Hiperglikemia terjadi pada 30-40% dari pasien dengan stroke iskemik akut dan 43–59% pasien stroke hemoragik. Beberapa penelitian menunjukkan bahwa hiperglikemia reaktif pada stroke fase akut merupakan respons terhadap stres. Tujuan Penelitian : Mengetahui gambaran dan hubungan kadar gula darah pada stroke hemoragik pada 11 jurnal yang dianalisis. Metode: Jenis studi yang digunakan adalah studi meta analisis pada 11 jurnal terpublikasi PubMed, AHA/ASA Journal yang terbit dengan rentang waktu 2015-2020 dan diakses pada Agustus-November 2020. Hasil: Terdapat 11 jurnal yang dianalisa, 10 dari PubMed dan 1 dari AHA/ASA Journal. Hasil dari meta analisis jurnal menunjukkan effect size gabungan pada 11 jurnal memiliki nilai p > 0.05 (OR = 0,999 CI 95% : 0,969-1,030). Kesimpulan: Hasil meta analisis menunjukkan bahwa gula darah bukan variabel independen yang memengaruhi kejadian stroke hemoragik.
Kata Kunci: Gula Darah, Hiperglikemia, Stroke Hemoragik
Downloads
Download data is not yet available.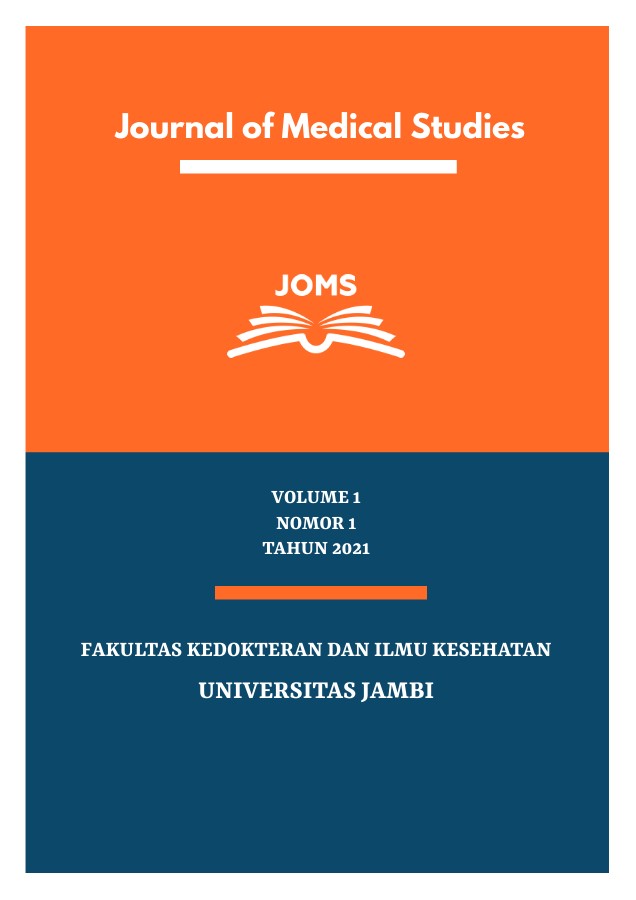 Downloads
License
Copyright (c) 2021 Hanna Saskia, Apriyanto, Armaidi Darmawan
This work is licensed under a Creative Commons Attribution-NonCommercial 4.0 International License.
JOMS: Journal of Medical Studies by Fakultas Kedokteran dan Ilmu Kesehatan Universitas Jambi