---
| | |
| --- | --- |
| Journal title | Jurnal Cerdas Sifa Pendidikan |
| Initials | CSP |
| Abbreviation | J. Cerdas Sifa Pendidikan |
| Frequency | 2 Issues per year |
| ISSN | 2252-8245 (Print)  |
| Editor-in-chief | Ely Yuliawan, M.Pd |
| Publisher | Universitas Jambi |
| Citation | Google Scholar  |
Journal of Cerdas Sifa Pendidikan is a journal published by the Fakultyof Teacher Training and Education, Jambi University's Sports and Health Education Study Program. This journal is published twice a year, May and November.
The  Cerdas Sifa Pendidikan Journal publishes research on various aspects of sports and exercise science, including anatomy, biomechanics, performance analysis, physiology, psychology, sports nutrition, health and well-being, as well as talent and physical development and identification. education. The journal also publishes review articles and book reviews.
This journal focuses on human sciences including responses to technologies such as the design of sports equipment and training facilities, selection and recruitment of athletes, analysis or modification of performance, and stress reduction. To be considered for publication, the manuscript must be original and relevant to the previously mentioned topic.
Published by the Fakulty of Teacher Training and Education
 Jambi University. However, the readership of this Journal includes academics to practitioners from various disciplines and topics of interest.
All articles published in this journal have undergone rigorous peer review, based on screening of preliminary editors and anonymous referees.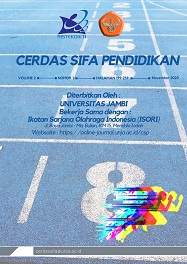 Accepted and published papers will be freely accessed in this website and the following abstracting & indexing databases:
Indonesian Publication Index (IPI)
Crossref Search
Publick Knowledge Project (PKP) Index
The journal has been listed in
Journal Cerdas Sifa Pendidikan indexed by: