KARAKTERISTIK PASIEN EFUSI PLEURA DI KOTA JAMBI
Abstract
ABSTRAK
Pendahuluan Efusi pleura merupakan keadaan terkumpulnya cairan di dalam rongga pleura, baik itu transudat maupun eksudat. Penyakit yang dapat menyebabkan terjadinya efusi pleura dapat berupa keganasan maupun proses inflamasi. Keganasan intratorakal dan ekstratorakal dapat menimbulkan terjadinya efusi pleura (efusi pleura maligna/EPM). Sampai sekarang belum ada data deskriptif mengenai efusi pleura di kota Jambi. Adapun tujuan penelitian ini mengetahui karakteristik pasien dengan efusi pleura dan proporsi kejadian efusi pleura maligna di Kota Jambi.
Metode Penelitian ini adalah penelitian deskritif dengan pendekatan retrospektif. Sampel penelitian merupakan pasien efusi pleura di kota Jambi dari dua RS pemerintah yaitu RSUD Raden Mattaher dan RSUD H. Abdul Manap tahun 2017- 2018 sebanyak 138 sampel. Cara pengambilan sampel dalam penelitan yaitu purposive sampling. Data yang diambil adalah data dari rekam medis pasien dan data primer berupa hasil pemeriksaan sitologi
Hasil penelitian ini mendapatkan pasien efusi pleura paling banyak pada proporsi umur 40 – 59 tahun (52,72 %). Jenis kelamin terbanyak adalah laki-laki dengan 88 pasien (63,77%). Lokasi efusi tersering adalah hemithorak dekstra (52,9 %) dan proporsi kejadian efusi pleura maligna hanya 32,61 %.
Simpulan Efusi pleura sering terjadi pada usia 40-59 tahun dengan jenis kelamin laki-laki. Sebagian besar efusi pleura adalah negatif maligna, hanya 32,61 % berupa EPM.
Kata kunci: efusi pleura maligna (EPM), karakteristik, sitologi
ABSTRACT
Introduction Pleural effusion is a condition where the fluid either a transudate or an exudate accumulate in pleural cavity. Disease that can cause pleural effusion can be either a malignancy or an inflammatory process. Intratoracal and extratoracal malignancies can cause pleural effusion (malignant pleural effusion / MPE). The aim of this study was to describe the characteristics of patients with pleural effusion and the proportion of malignant pleural effusion in Jambi City.
Methods This research is a descriptive study with a retrospective approach, was conducted in 138 sample of pleural effusion patients at two hospital Raden Mattaher and H. Abdul Manap Hospital in 2017-2018. The data was taken from the patient's medical record and primary data in the form of cytological examination results.
Results of this study found that most patients with pleural effusion were at the age 40 - 59 years (52.72%), and more men than women (63.77%). The location of the most common effusion was the right hemithorax (52.9%) and the proportion of malignant pleural effusion was only 32.61%.
Conclusion Pleural effusion often occurs at the age of 40-59 years with male sex predominant. Most pleural effusions are negative for malignancy, MPE was only 32,61 %.
Keywords: characteristics, cytology, malignant pleural effusion (MPE)
Downloads
Download data is not yet available.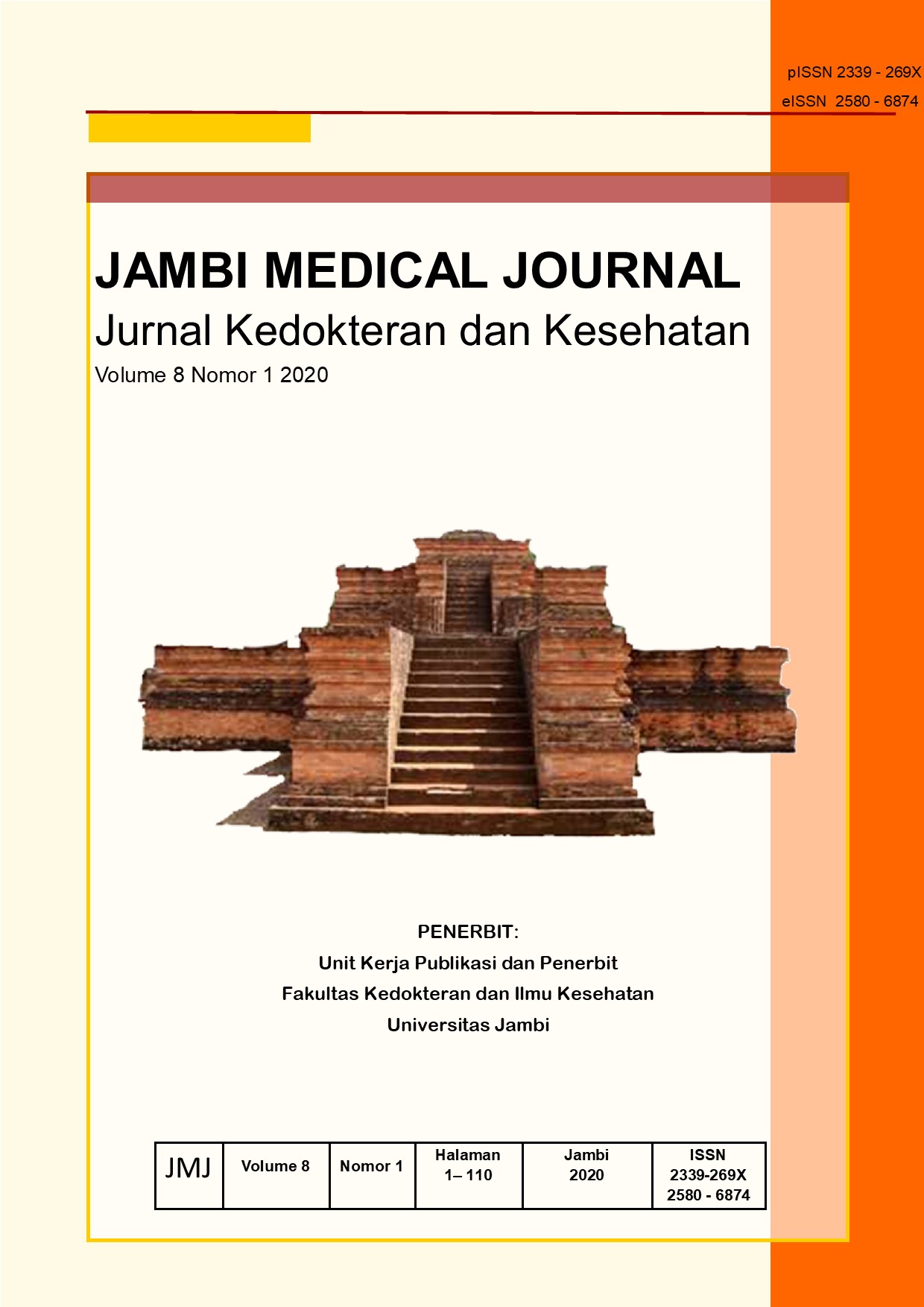 Downloads
How to Cite
KARAKTERISTIK PASIEN EFUSI PLEURA DI KOTA JAMBI. (2020). JAMBI MEDICAL JOURNAL "Jurnal Kedokteran Dan Kesehatan", 8(1), 54-59. https://doi.org/10.22437/jmj.v8i1.9489