A ANALISIS PENGARUH PEMBERIAN EKSTRAK BAWANG MERAH (Allium cepa L) TERHADAP KADAR ASAM URAT DARAH PADA TIKUS PUTIH (Rattus Norvegicus) JANTAN YANG DIINDUKSI KALIUM OKSONAT
Abstract
Background : Based on data From the World Health Organization (WHO) expressed an increase in the incidence of gout disease. In Indonesia is known to occur at the age below 34 years (32%) and age more than 34 years (68%). Gout disease based on health service data of Pekanbaru is included in the 10 major diseases in Puskesmas. The disease begins with hyperuricemia conditions due to excessive production of uric acid metabolism and decreased urinary acid excretion or one of them. Shallots are known to have active compounds such as flavonoids, saponins, polyphenols, terpenoids, alkaloids. 
Research Objectives : To analyze the influence of red onion/shallot extract (Allium cepa L) on blood uric acid levels in white rats (rattus norvegicus) potassium-induced oksonate.
Research Method : Using the design of experimental studies with the research draft "Pre and Posttest control group Design" using samples of 30 mice that were divided into five groups.
Results : Use of shallot extract against the level of blood uric acid in white rats induced potassium oksonat is meaningful with evidence of a decrease in blood uric acid levels between before and after treatment. The most effective dose in lowering blood uric acid levels is a dose in the group of 400mg/KgBB/day.
Conclusion : The administration of shallot is known to affect blood uric acid levels in white rats males, and the shallot is known to have active compounds to lower blood uric acid levels in the white rats males.
Keywords : uric acid, shallot extract, hyperuricemia
Downloads
Download data is not yet available.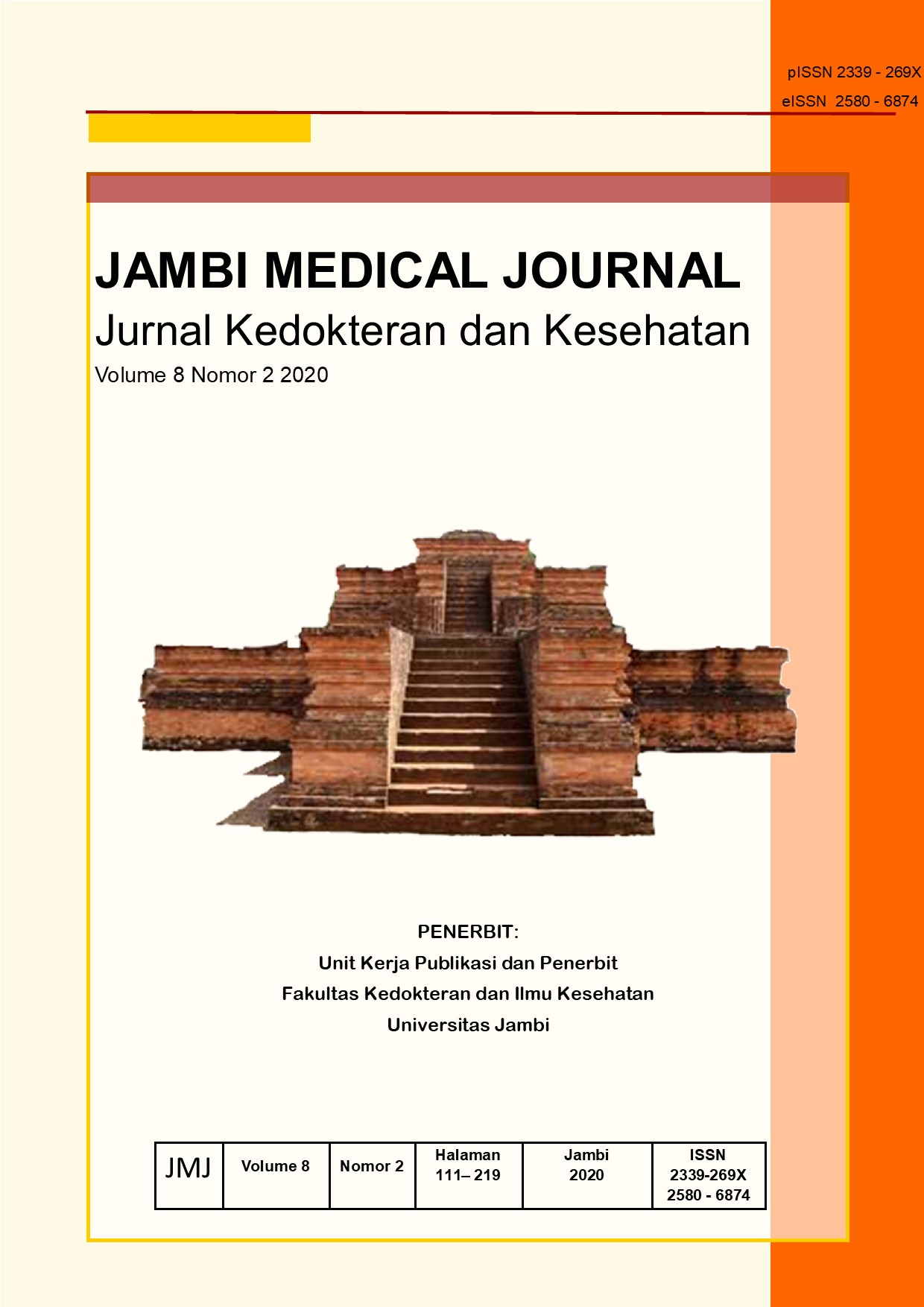 Downloads
How to Cite
Marwan, D., Faisal, & Aini, P. N. . (2020). A ANALISIS PENGARUH PEMBERIAN EKSTRAK BAWANG MERAH (Allium cepa L) TERHADAP KADAR ASAM URAT DARAH PADA TIKUS PUTIH (Rattus Norvegicus) JANTAN YANG DIINDUKSI KALIUM OKSONAT. JAMBI MEDICAL JOURNAL "Jurnal Kedokteran Dan Kesehatan", 8(2), 147-153. Retrieved from https://online-journal.unja.ac.id/kedokteran/article/view/10619