The CERVICOTHORACIC SPINAL TUBERCULOSIS TREATED WITH A COMBINED SINGLE STAGE SURGERY
Spinal Tuberculosis
Abstract
Introduction
Tuberculosis of the cervical spine is rare, comprising only 3-5% of cases of tuberculosis of the spine. TB spine is the most common form of skeletal TB. It is the most dangerous manifestation of TB due to the involvement of the spinal cord and the resultant neurologic impairment.
Objective
The objective of this paper is to present our experience with a rare case of cervical spine spondylitis. This case stresses the usefulness of a single-stage anterior and posterior approach with posterior instrumentation.
Method
We present a case report based on our internal documents. We report a case of spondylitis tuberculosis of the C6-C7 cervical spine associated with retropharyngeal abscess in a 15-year-old Indonesian female. Neck pain and weakness of both upper and lower extremities were the main features. There was a history of weight loss, fever, and excessive night sweats. No antecedent history of trauma to the head and neck region.
Results
We did a single-stage anterior and posterior approach with posterior instrumentation. Anterior approach was done to evacuate and debridement of the retropharyngeal abscess. The posterior approach was done for posterior instrumentation with pedicle screw and dual rod. We did posterior stabilization on Cervical 5-6 and Thoracal 3-4. One week after surgery we found remarkable improvement of the pain and extremities functions.
Conclusion
In the surgical treatment of cervicothoracic spinal tuberculosis, a single-stage cervical combined anterior-posterior approach with posterior instrumentation is capable of complete debridement for tuberculosis lesions. Operative management in our patient resulted in remarkable improvement.
Keywords: Cervicothoracic spondylitis, tuberculosis, retropharyngeal abscess
Downloads
Download data is not yet available.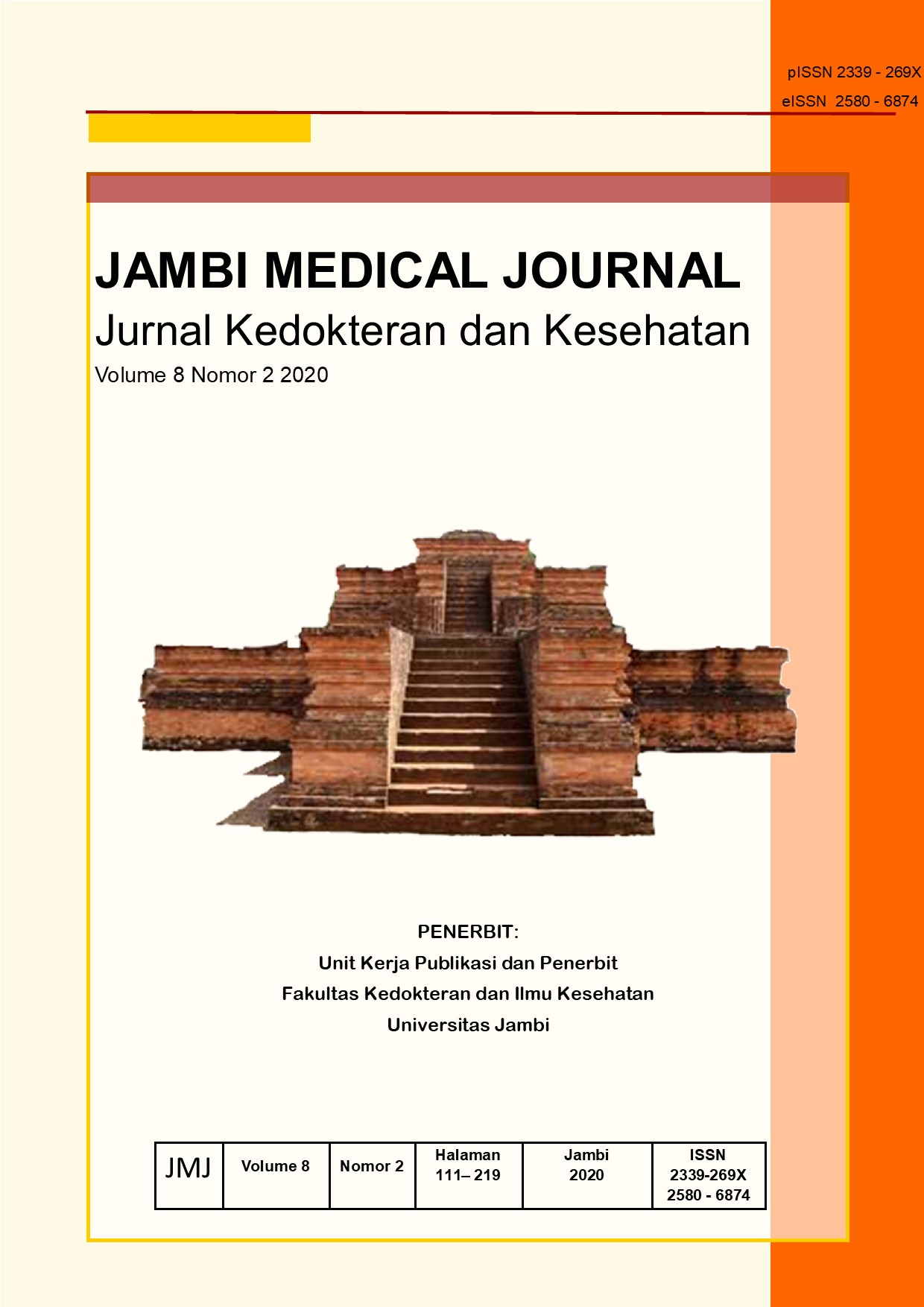 Downloads
How to Cite
Ermawan, R., jiwandono, bayu sakti jiwandono, & Utomo, P. (2020). The CERVICOTHORACIC SPINAL TUBERCULOSIS TREATED WITH A COMBINED SINGLE STAGE SURGERY: Spinal Tuberculosis. JAMBI MEDICAL JOURNAL "Jurnal Kedokteran Dan Kesehatan", 8(2), 204-210. Retrieved from https://online-journal.unja.ac.id/kedokteran/article/view/10365