GAMBARAN KESESUAIAN KEGIATAN POSYANDU DENGAN PEDOMAN PELAKSANAAN POSYANDU DI KOTA JAMBI
Jurnal JMJ

Armaidi Darmawan

Huntari Harahap
Abstract
Abstract
Posyandu is one form of Community Based Health Effort (UKBM) run of, by, for and with the community, in order to empower people and provide convenience to the public in obtaining basic health care. Knowing programs owned posyandu society will be easier to get information and lessons learned about health that will impact the increase in the quality of health from an early age and elderly as well as the conformity of the program posyandu the guidelines posyandu expected to reduce maternal mortality, infant and toddler.
Aims of the research is to describe the implementation of Posyandu program are given to the public in the city of Jambi and explain owned posyandu barriers in implementing the program. This study is descriptive with the approach used is a quantitative approach. The subjects used were public and Posyandu cadres in the city of Jambi. Samples were taken at several the posyandu where all the subjects come and meet the selection criteria for inclusion in the study until the required number of subjects met. The result showed maternal health programs, compliance is 33.3% of prenatal care, postpartum examination 10%, and the provision of vitamins and tablets Fe 25%, the percentage of child health programs 100% compliance, does the weighing and the determination of the status of growth. The immunization program, namely compliance, implementation of 13.3% BCG, DPT 28.3%, 23.33% polio, measles hepatitis 16.67% and 3.33%. Nutrition programs, nutrition counseling kesesuainnya is 76.67%, early detection of growth disorders 45%, supplementary feeding is done 100%, while provision of vitamin tablet Fe and 3.33%. Diarrhea prevention and treatment programs, counseling PHBs the suitability of 8.33% and 3.33% of Oralit administration. Most of implementing the program in posyandu implementation is not in accordance with the guidelines. Only on child health programs and supplementary feeding in accordance with the guidelines for the implementation the posyandu.
Keyword : Posyandu
Abstrak
Posyandu merupakan salah satu bentuk Upaya Kesehatan Berbasis Masyarakat (UKBM) yang dijalankan oleh, oleh dan untuk masyarakat, untuk memberdayakan masyarakat dan memberikan kemudahan kepada masyarakat dalam memperoleh layanan kesehatan dasar. Mengetahui program yang dimiliki masyarakat posyandu akan lebih mudah mendapatkan informasi dan pelajaran tentang kesehatan yang akan berdampak pada peningkatan kualitas kesehatan sejak usia dini dan lansia serta kesesuaian program posyandu dengan pedoman posyandu yang diharapkan dapat mengurangi angka kematian ibu melahirkan, Bayi dan balita
Tujuan dari penelitian ini adalah untuk mendeskripsikan pelaksanaan program Posyandu yang diberikan kepada masyarakat di kota Jambi dan menjelaskan adanya hambatan posyandu yang dimiliki dalam pelaksanaan program. Penelitian ini bersifat deskriptif dengan pendekatan yang digunakan adalah pendekatan kuantitatif. Subjek yang digunakan adalah kader masyarakat dan posyandu di kota Jambi. Sampel diambil di beberapa posyandu dimana semua subjek datang dan memenuhi kriteria seleksi untuk dimasukkan dalam penelitian ini sampai jumlah yang dibutuhkan dari mata pelajaran terpenuhi. Hasilnya menunjukkan program kesehatan ibu, kepatuhan adalah 33,3% perawatan prenatal, pemeriksaan pascapartum 10%, dan pemberian vitamin dan tablet Fe 25%, persentase program kesehatan anak 100% kepatuhan, apakah bobot dan penentuan status Pertumbuhan. Program imunisasi, yaitu kepatuhan, penerapan 13,3% BCG, DPT 28,3%, polio 23,33%, hepatitis campak 16,67% dan 3,33%. Program gizi, gizi konseling kesesuainnya adalah 76,67%, deteksi dini gangguan pertumbuhan 45%, pemberian pakan tambahan dilakukan 100%, sedangkan pemberian vitamin tablet Fe dan 3,33%. Program pencegahan dan pengobatan diare, penyuluhan PHB memiliki kesesuaian 8,33% dan 3,33% administrasi Oralit. Sebagian besar pelaksanaan program dalam pelaksanaan posyandu tidak sesuai dengan pedoman. Hanya pada program kesehatan anak dan pemberian pakan tambahan sesuai dengan pedoman pelaksanaan posyandu.
Kata kunci : Posyandu
Downloads
Download data is not yet available.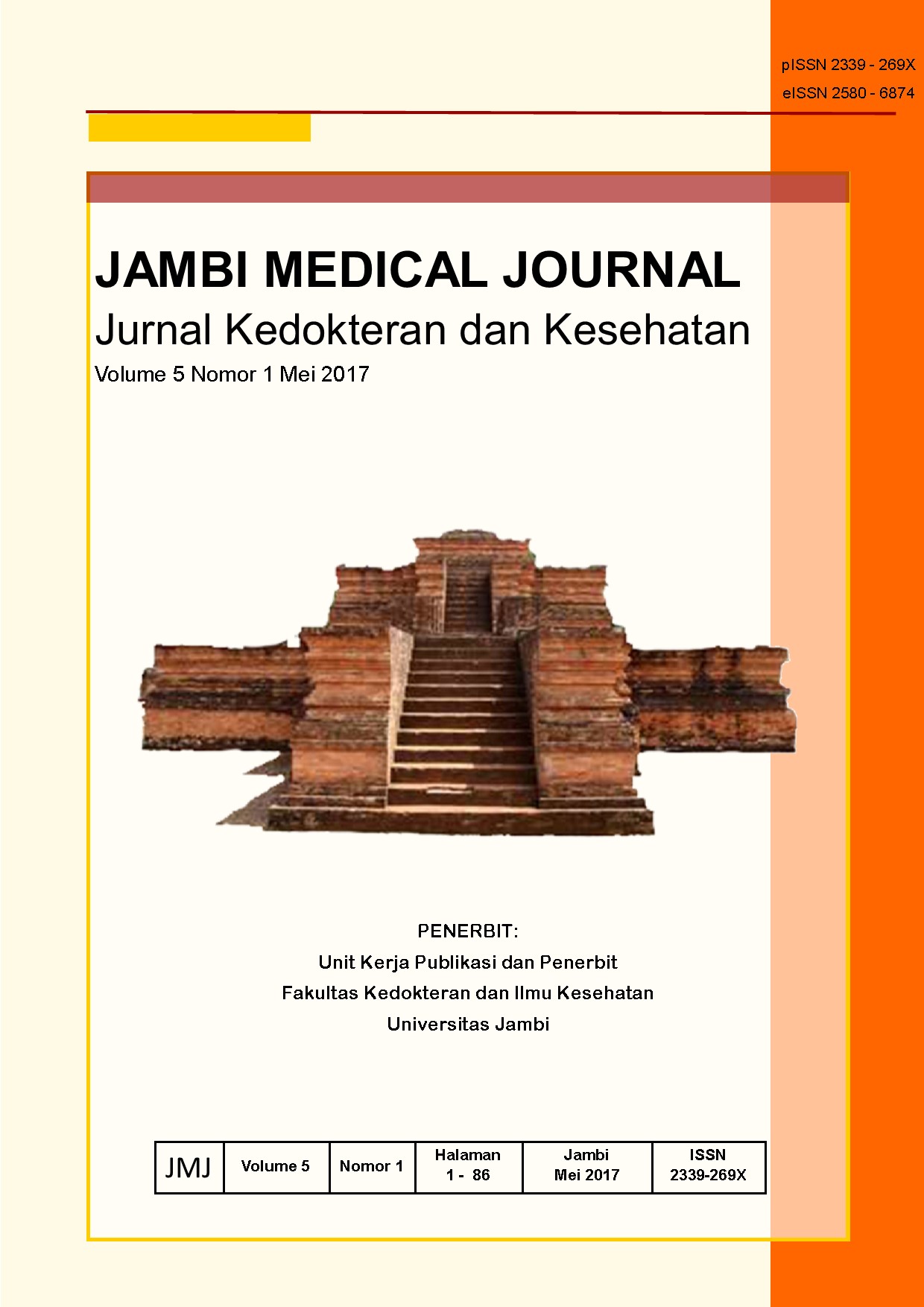 How to Cite
JMJ, J., Darmawan, A., & Harahap, H. (2017). GAMBARAN KESESUAIAN KEGIATAN POSYANDU DENGAN PEDOMAN PELAKSANAAN POSYANDU DI KOTA JAMBI. JAMBI MEDICAL JOURNAL "Jurnal Kedokteran Dan Kesehatan", 5(1), 59-67. Retrieved from https://online-journal.unja.ac.id/index.php/kedokteran/article/view/3702