TATA LAKSANA NUTRISI PADA PASIEN LUKA BAKAR LISTRIK
Raihannah Suzan

Diyah Eka Andayani
Abstract
Abstract
Background: In electrical burn injuries, damages of internal organs are not comparable to burn injuries in the body's surface. Nutrition therapy is an integral part in burn management from resuscitation to rehabilitation phase. Currently there are recommendations of nutrition management in severe burn injury, but  no  recommendation that specificaly for electrical burn injury. Methods: These case series describes nutrition management in four electrical burn patients with complications. First patient with cervical trauma, second patient had AKI and decreased liver function, third patient had septic shock, and fourth patient had sepsis and amputation. Target energy given calculated by Harris-Benedict equation with stress factor 1,5─2. Protein was given 1,5─2 g/kg BW/day except patient with AKI, protein restricted to 0,8─1 g/kg BW/day until improvement of renal function. Carbohydrates and lipids were given 60─65% and <35%, respectively.  Micronutrients supplementation such as antioxidant vitamins, vitamin B complex, and folic acid were provided.  Results: Three patients had improvement in clinical condition, functional capacity, and laboratory results that allowed them to be discharged. Length of stay patients were 17, 60, and 20 days respectively. One patient died after 14 days of hospitalization.  Conclusion: Optimal and appropriate nutrition management can reduced morbidity and mortality rate in the electrical burn injury patients.
Keywords: Electrical burn injury, complications, nutrition management
Abstrak
Latar belakang: Pada pasien luka bakar listrik, keparahan trauma pada organ dalam tidak sebanding dengan luka bakar di permukaan tubuh sehingga dikategorikan sebagai luka bakar berat. Terapi nutrisi merupakan bagian integral tata laksana luka bakar sejak awal resusitasi hingga fase rehabilitasi. Saat ini sudah terdapat rekomendasi tata laksana nutrisi luka bakar berat. Namun, belum terdapat rekomendasi spesifik untuk luka bakar listrik.  Metode: Serial kasus ini memaparkan tatalaksana nutrisi terhadap empat pasien kasus luka bakar listrik dengan penyulit. Pasien pertama dengan trauma servikal, pasien kedua mengalami AKI dan penurunan fungsi hati, pasien ketiga mengalami syok sepsis, dan pasien keempat mengalami sepsis dan amputasi. Target pemberian energi dihitung menggunakan persamaan Harris-Benedict ditambah faktor stres 1,5–2.  Protein diberikan 1,5–2 g/kgBB/hari kecuali pada pasien dengan AKI diberikan 0,8–1 g/kgBB/hari hingga terjadi perbaikan. Karbohidrat dan lemak berturut-turut 60–65% dan <35%. Mikronutrien diberikan berupa multivitamin antioksidan, vitamin B kompleks dan asam folat. Hasil: Tiga pasien mengalami perbaikan klinis, kapasitas fungsional, dan laboratorium hingga diperbolehkan rawat jalan. Lama perawatan ketiga pasien tersebut berturut-turut 17, 60, dan 20 hari. Satu orang pasien meninggal akibat penyulit setelah dirawat selama 14 hari. Kesimpulan: Tatalaksana nutrisi yang optimal dan tepat dapat menurunkan morbiditas dan mortalitas pasien dengan luka bakar listrik.
Kata kunci: Luka bakar listrik, penyulit, tata laksana nutrisi.
Downloads
Download data is not yet available.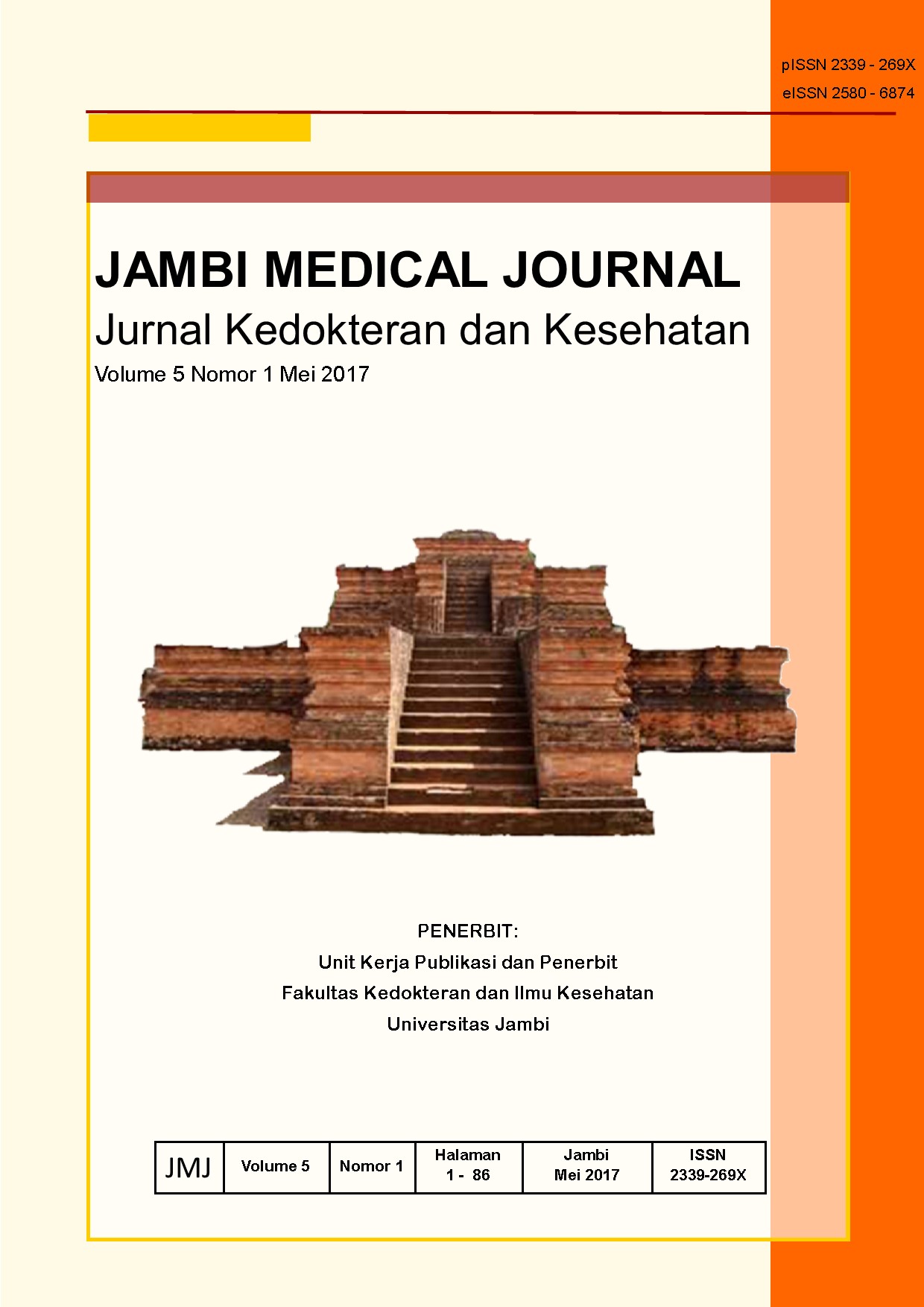 How to Cite
Suzan, R., & Andayani, D. (2017). TATA LAKSANA NUTRISI PADA PASIEN LUKA BAKAR LISTRIK. JAMBI MEDICAL JOURNAL "Jurnal Kedokteran Dan Kesehatan", 5(1), 1-13. Retrieved from https://online-journal.unja.ac.id/index.php/kedokteran/article/view/3598