PERAN DEWAN KEHORMATAN DAERAH DALAM PENYELESAIAN PELANGGARAN KODE ETIK NOTARIS DI KOTA PEKANBARU
Abstract
Abstract
Violation of a notary code of ethics that occurs in Pekanbaru City, lack of understanding of the duties and functions of a notary public, violations committed by a notary are included in the code of ethics sanction in the form of suspension and dismissal of a notary public. Sanctions received by notaries who violate the code of ethics are not only suspension and dismissal sanctions, but also get criminal and civil sanctions. The issues raised in this study, namely 1) how the scope of violations of the notary code of ethics in the city of Pekanbaru, 2) how the role of the regional Honorary Council in resolving violations of the notary code of ethics in the city of Pekanbaru and 3) what are the obstacles to the regional Honorary Board in resolving the code violations ethical notary in the city of Pekanbaru.The scope of violation of the notary code of ethics in Pekanbaru City is in the supervision of the Regional Honorary Council in providing sanctions other than based on examination at the trial also looking at the good faith of the Notary who is aware of his mistakes and wants to make improvements to the deed he made. Some violations of the notary code of ethics in Pekanbaru City are notaries who spend more time doing activities outside the office, installing name signs not in accordance with standards, installing flower boards by writing PPAT and Notary Public. The role of the Pekanbaru City Honorary Board in solving violations of the Notary Ethics Code in the city of Pekanbaru has not been fully effective, because so far the Honorary Board has never sanctioned a notary who violated the nameplate installation. The Pekanbaru City Honorary Council has imposed sanctions only in the form of verbal reprimands to the notary who committed the violation, no written warning or dismissal had ever been held in the association of notary organizations that committed violations. The obstacle to the Regional Honorary Council in solving violations of Notary Ethics Code in Pekanbaru city is that the Rules for conducting oversight are incomplete, the Notary Honorary Board who has the authority to supervise the performance of Notaries is often very slow and walks in following up on any violations committed by Notaries. Furthermore, the object of supervision is the peer notary himself. Efforts must be made related to obstacles faced by the Pekanbaru City Honorary Council by conducting regular guidance and guidance in member meetings which are held once a month.
Keywords: Keywords: Notary, code of Ethics, Honorary Board.
Downloads
Download data is not yet available.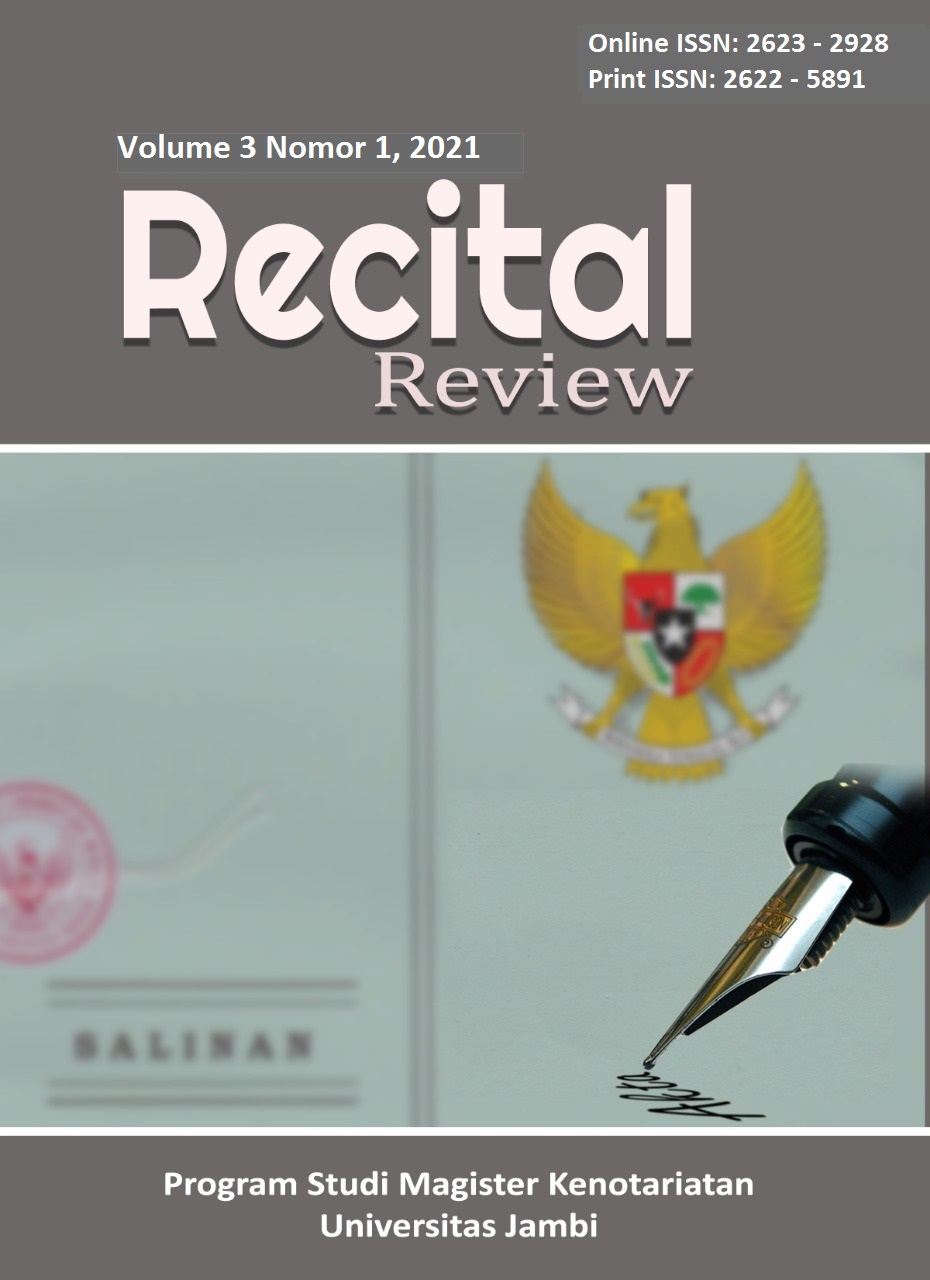 How to Cite
HASFAREVY, T. (2021). PERAN DEWAN KEHORMATAN DAERAH DALAM PENYELESAIAN PELANGGARAN KODE ETIK NOTARIS DI KOTA PEKANBARU. Recital Review, 3(1), 40-64. Retrieved from https://online-journal.unja.ac.id/RR/article/view/11270
License
Copyright (c) 2021 Recital Review
This work is licensed under a Creative Commons Attribution 4.0 International License.
Copyright Notice:
1. Authors retain copyright and grant the journal right of first publication with the work simultaneously licensed under a Creative Commons Attribution 4.0 International License that allows others to share the work with an acknowledgement of the work's authorship and initial publication in this journal.
2. Authors are able to enter into separate, additional contractual arrangements for the non-exclusive distribution of the journal's published version of the work (e.g., post it to an institutional repository or publish it in a book), with an acknowledgement of its initial publication in this journal.
3. Authors are permitted and encouraged to post their work online (e.g., in institutional repositories or on their website) prior to and during the submission process, as it can lead to productive exchanges, as well as earlier and greater citation of published work (The Effect of Open Access)